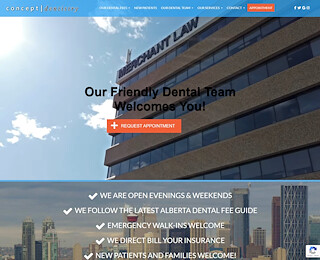 The Calgary family dentist at Concept Dentistry welcomes new patients looking for a dental clinic to care for their family's oral health. Whether you're new to the area or are just searching for a dedicated staff who will take excellent care of your family's teeth, you'll find Concept Dentistry is always open to the opportunity of meeting with you to discuss your needs.
If you currently don't have a dentist for your family you can fill out a contact form from ConceptDentistryCalgary.com to make a connection or book an appointment by calling 403-248-0301. Call for a complimentary consultation to create a dental plan for your whole family. At Concept Dentistry, their patients love that the office is conveniently located in the Merchant Law building off of Deerfoot Trail and 17th Ave SE, making them central to patients from every corner of Calgary.
Concept Dentistry understands not every patient is able to fit a regular day-time visit into their schedule; that's why the Calgary Family Dentist is open late into the evenings on Monday through Thursday, and on Saturday as well. They're also ready to help if you should ever have a dental emergency that requires immediate dental care, such as a broken tooth, lost crown or filling, dental pain or a toothache or any other dental issue that requires being seen.
Getting your children in early to see a dentist is key in educating them on good oral hygiene. The staff at Concept Dentistry is skilled in dealing with patients of every age so you can feel comfortable bringing in even your youngest child to have a check up. The Calgary family dentist believes in creating a fun and trusting environment for your child to maintain a beautiful and healthy smile as they grow.
If you're the parent of a teen it's important that you're diligent in bringing them in for routine checkups as their teeth continue to come in and fill their mouth in the event that orthodontics is necessary to prevent future pain and problems from teeth that are not set straight early on.
For complex tooth movements, the Calgary family dentist may recommend traditional braces for your teen that will have to be worn 24/7, however for simpler straightening, Invisalign braces may be the best option. Your dentist will work with you to find the best solution for your teen.
Concept Dentistry is able to meet the dental needs of your entire family, from your youngest family member to seniors. Feel free to book an appointment to get to know the staff so your family will feel more comfortable during their first visits.
As a service to patients, the Calgary family dentist is happy to help sort out your dental insurance and help you maximize your benefits by taking care of all of the paperwork submissions and manage direct billing for you. They're also happy to submit treatment plans prior to having work done to determine your coverage availability.
To speak with a friendly staff member from Concept Dentistry, please call 403-248-0301 or visit online to learn more about the services your Calgary family dentist provides.
Calgary Family Dentist