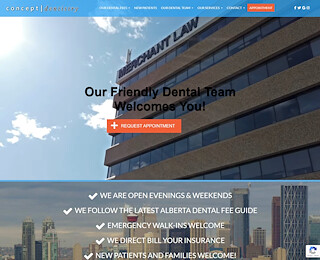 Concept Dentistry invites you to schedule your first appointment if you are looking for a new Calgary dentist. At Concept Dentistry, we have some of the most experienced dentists in Calgary, and we offer a full suite of dental services. It's safe to say that we do it all here. Whether you need a Calgary dentist for yourself or your children; whether you have great oral health or poor or health, Concept Dentistry has seen it all and done it all! Don't be shy about getting the dental care you need and deserve. Concept Dentistry is not judgmental.
Why Schedule Routine Trips to the Dentist?
At Concept Dentistry, we encourage and promote a consistent at-home oral hygiene maintenance regimen, including twice daily brushing, flossing, and rinsing. But even those who are the most devoted to protecting their oral health and hygiene still need to make regular trips to the dentist each year. Professional dental cleaning plays a big role in oral health care! Some people need to come in for cleanings once a year, and others will need to come in twice a year.
Getting Started With Your New Calgary Dentist
When you contact Concept Dentistry for your first visit, you will schedule an appointment with one of our top Calgary dentists. This first visit is sort of like a consultation. Your dentist will sit down with you, discuss your needs and dentistry goals, examine your mouth, and mutually determine if Concept Dentistry is right for you. If you decide to move forward with our dentist, you will then create a dental care plan that meets your immediate needs and helps you accomplish your overall dental goals.
Seeing Your Dentist Regularly Can Lead to Early Detection of Serious Oral Problems
One of the key benefits of going to the dentist's office routinely is that you give yourself the best chance to detect and to address any potential dental problems early. Gum disease, tooth loss, and even oral cancer can often be avoided by simply going to the dentist a couple of times a year. Further, a routine checkup is all takes to detect these otherwise undetectable problems and treat them long before they reach their advanced stages.
Find a Calgary Dentist for the Whole Family
If you have children, your dentist can treat your whole family so everyone shares the same dentist. Taking children to the dentist at a young age promotes good oral health and hygiene, along with good habits, that will last well into adulthood. Further, it does even more to foster good dental habits in children when they see their parents taking their oral health and hygiene seriously as well.
Contact Concept Dentistry Today
Whether you need cosmetic dentistry, restorative dentistry, or preventative dentistry, you'll gain confidence and self-esteem with routine trips to the dentist. With a clean, white, bright smile and the healthiest mouth you can have, you look your best and feel your best at all times. Contact a Calgary dentist at Concept Dentistry and get started today.
Calgary Dentist